For the last five or so years, industries ranging from financial services to retail have moved the term "customer engagement" from buzzword to broken record. In 2013, a partner at consulting giant McKinsey called for the end of the CMO as we know it, to be replaced by a "chief engagement officer," citing the number of touchpoints a customer has with any particular company. Insurance, however, has largely stayed on the sidelines during this movement. This can be explained with a variety of reasons, some of which are valid, and some which are lacking.
Viewing the customer experience: Insurtech vs. Insurance
One of the biggest challenges today is how customer perception is being shaped by experiences outside of insurance. Consider the great lengths to which tech companies will go to minimize customer friction. New technologies like Google Voice and Alexa are perfect examples of how companies are trying to simplify customer interactions and experiences, and these types of services are only just getting started. Grange Insurance recently announced their use of Alexa to help potential customers find a local independent Grange Insurance agent, hear the insurance tip of the day, and learn general information about the company and its products.
"Removing friction" isn't exclusive to Amazon or Google; many fintech and insurtech companies are trying to do the same:
MetroMile is making it so that customers only pay car insurance for the miles they drive.
One, Inc. layers customer relationship management tools and principles into claims processing to enhance responsiveness.
However, these companies are starting in a very difficult and convoluted position. Consider the path that buyers of insurance must to travel in order to make a purchase: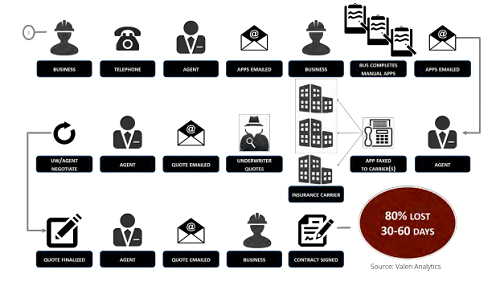 Tech companies have taken a far different approach to changing the face of customer interactions, building platforms and then leveraging their usability findings to enter new markets. Essentially, tech companies can try a market, and, once successful, establish best practices that can be leveraged in other markets.
Engaging the un-engageable 
Another advantage that many tech companies bring to the table is a wealth of experience in engaging customers. From e-mail marketing through mobile notifications, tech companies are typically in constant communication with their customers.
This isn't necessarily true of insurance companies. Most customers only interact with insurers when they have a problem or a claim. While there are examples of insurers sending helpful tips through email, direct customer communication that builds positive experiences and relationships is limited. Being a risk adverse industry, perhaps many insurers are afraid to try engagement initiatives.
However, this fear may be misguided. It is possible for insurers to engage customers without alienating them. Traditionally, the insurers who score best in the JD Power Ranking for customer service tend to be the most profitable.
Insurance has an identity crisis 
Finally, there is a challenge that goes beyond engaging the customer; many insurers can't actually identify the customer. Despite more than two centuries of successful business, insurance has a far more complicated model than people outside the industry recognize. Insurance is sold on a B2B2C model, where insurers work with agents and brokers, who sell to customers. This means that many insurers believe that the agent is their most important customer, while others believe that the customer is the person buying coverage.
This fundamental issue is expanding the gap between the experiences that customers have come to understand from companies like Google and Amazon, and those offered by insurers.
The way forward
Good customer relationships are built on authenticity, so an insurance company should stay true to its culture. Insurers don't need to be exactly like Google to remain relevant, but as an industry they must understand the experiences being provided to customers in their day-to-day lives, and incorporate best practices where possible in an attempt to more closely mirror those interactions. Insurers must make efforts to accurately identify their customers and engage them in the way they're most comfortable.
---
Article written by Dax Craig
Originally appeared on InsuranceBusinessMag.com